FROM RUSTIC TO LUXURY RVS
There are many ways to camp

EXPLORE RV TYPES
Seasonal Camping units and vehicles are designed to be transportable. Unlike a cabin in the woods or a beach house on the coast that is permanently built in a single location, Seasonal Campers can find a new campground and instantly have a whole new view. Discover the many types of RVs most commonly used for seasonal camping. From rustic to luxury, we've got you covered.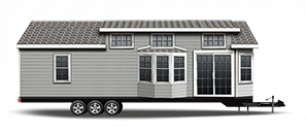 PARK MODELS
A luxurious new alternative to traditional RVs, Park Model RVs placed at seasonal campsites provide extra room and comfort to complement the outdoor lifestyle. Often equipped with lofts for the kids, full-sized kitchens and baths, and even relaxing patios, it's a whole new haven away from home.
FEATURES
Built to CSA Z-241 safety standards: With a maximum of 540 sq ft the Park Model Recreational Unit can provide ample space for the whole family.
Comfort and convenience: Constructed for seasonal use these units operate on 110V systems allowing for conventional appliances throughout instead of your typical RV style.
Exterior Cladding and shingle roofs: Provides years of maintenance free protection from the elements.
TAKE A LOOK INSIDE A PARK MODEL
Kitchen / Living Room
Bedroom
Bathroom
Bunk Room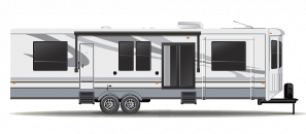 PARK TRAILERS
Similar to a large conventional Travel Trailer the Destination Travel Trailer is constructed for seasonal use only. Units are designed for occasional moves using a heavy duty tow vehicle and do not require a special highway permit. These units are built on a single chassis and in some cases have a removable hitch. Onsite hook-ups are required.
FEATURES
Park Trailers similar to the travel trailer are built to CSA Z-240 safety standards and may not exceed 400 sqft.
Most are equipped with a 110V systems, although some manufacturers do use a combination of 12V & 110V (see dealer for details).
These RV's do not exceed 2.6 meters (8 ½ ft) in width, but will usually have at least one or two slide-outs that operate at the touch of a button and provide added living space.
Exteriors are available in both an aluminum skin as well as fiberglass and use traditional style RV windows & doors.
TAKE A LOOK INSIDE A PARK TRAILER
Kitchen / Living Room
Bedroom
Bathroom
Kids Room
Loft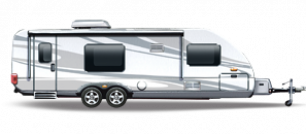 TRAVEL TRAILERS
The most popular RV type is also a great idea for seasonal camping! With so many floor plans to choose from the possibilities are endless. The advantage of travel trailers is that if you decide to change location to another seasonal campground it is much easier to relocate.
FEATURES
Smaller models can be towed by mid-size vehicles including your family car, SUV or pickup truck. Be sure to check with your dealer for your vehicle's tow limits.
Larger models must be towed by heavy-duty vehicles but do not require a special highway movement permit.
Detachable from tow vehicle so you can leave your trailer at the park and use your car or truck for shopping and sightseeing.
All the conveniences of home including amenities for sleeping, showering, dining, cooking and entertainment facilities.
TAKE A LOOK INSIDE A TRAVEL TRAILER
Kitchen / Living Room
Bedroom
Bathroom

Want to buy or
rent an RV?

Find a Seasonal
Campground